Ugg Boots from Australia – you either love them or hate them. Whatever you think of them – they are very popular and they are not cheap – for the genuine article. Buying them online can work out a bit cheaper than the prices here in Ireland.
Watch out for the many websites selling fake Ugg boots. The sites listed below sell genuine Ugg boots and deliver to Ireland (Some have free delivery) .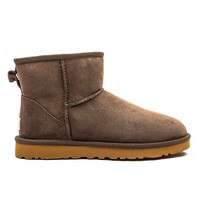 Apparently – celebrities like Kate Moss and Sienna Miller wear Uggs all the time. Uggs are perfect for any time of year and any event, UGG Australia Boots are really comfy and warm. With high quality stitching and real sheepskin lining.
Ugg Australia was formed in 1978 by a young surfer from Australia who took a trip to the United States with a bag full of sheepskin boots. The luxury and comfort of UGG Australia proved popular in the the high-end footwear world. You can get the classic Ugg Boots and they now sell range of warm weather footwear for men, women and children. The Ugg collection now includes handbags and a whole range of accessories.
MeliJoe is based in France and they sell some of the big brands for children . Shoes for boys and girls from brands such as Reebok , Ugg , DR Martens, Adidas , Sorel , Converse and more .Delivery to Ireland €8.95 .
ASOS sell Ugg boots as well as Ugg scarves, hats and gloves. Free delivery to Ireland and some good discounts too.
Schuh is another online shoe shop selling Ugg Boots as well as other well known shoe brands. Delivery is just €5 Euro to Ireland
JD Sports sell trainers mainly – but they do stock some Ugg shoes too sometimes. Delivery to Ireland is free on orders over €80 and prices are in Euros. JD sports won't be passing any customs fees onto you and will be covering the full amount
Amazon – also sell genuine boots by Ugg Australia – with free delivery to Ireland. See all the Ugg Boots available at Amazon Here
Office Shoes also sell genuine Ugg boots . Delivery charges for Ireland are £5.
Shoe Size Conversion These are the usual shoe size conversions Euro/UK
Women's UK 3 4 5 6 7 8 9 10 11
Womens Euro 36 37 38 39 40 41 42 43 44
Men's
UK 6 7 8 9 10 11 12
Euro 40 41 42 43 44 45 46