Amazon is probably the best known online retailer in the Western World. There isn't an Amazon.ie website specifically for Ireland – but online shoppers in Ireland can use the Amazon UK website  and they will deliver almost everything to Ireland .


As well as Books, Cds and DVDs – Amazon will also deliver Toys , Consoles ,Kindles, Toys, Video Games ,Clothes, Jewellery, Camcorders , Cameras , Computers, Tools , Shoes, kitchen equipment, pushchairs, luggage etc etc. There are very few items that Amazon won't deliver to Ireland.
---
Amazon Prime  now includes FREE 2 day priority delivery to Ireland on all Prime Eligible items (and there are millions of them .)  Free next day delivery to the UK is also included. Non students in Ireland can get a 30 day free trial of Amazon Prime  (Sign up page here.)
Students in Ireland can get a 6 month free trial of Amazon Prime.  Just go to the Amazon Prime Student sign up page .
So  if you have a student in the family – maybe just get them to sign up for the 6 month free trial – and they can do the ordering for you !
Amazon still offer Free "super saver" delivery to Ireland for everyone on all orders over £25. This can take between 3 and 5 days.

Important: Only goods sold by Amazon.co.uk or fulfilled by Amazon are included in the offer of free super saver delivery to Ireland on orders over £25. Don't just assume your delivery will be free – check the final total before paying.
If your Amazon order is under £25 the following charges will apply for delivery to Ireland: Checked Oct 2019

Books/ Music / DVD / Blu-ray / Video Games £4 per delivery
Other categories   – £6 per delivery
If you want 2 day delivery to Ireland and you are not a Prime member   – it will cost you £7.49   per delivery.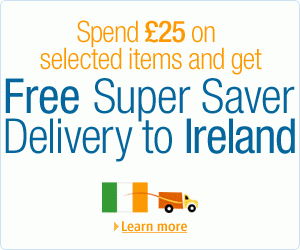 Basically – it makes sense to try make sure your orders at Amazon are always over £25
Amazon employs hundreds of staff in Ireland – in Dublin and Cork. They are the world's biggest "e-tailer" and seller of its own e-reader device Kindle,